Sofas and chairs are meant to be soft and inviting – places to relax, spend family time, and enjoy chatting with friends. They are not meant to be hard-edged, rock solid, or razor sharp. Over the years, most sofa and chair cushions will look more and more "relaxed" depending on what's on the outside-and inside too!
Here's why; and what you can do to maintain and restore the original look of your furniture.
What's inside of your sofa and chair cushions:
The industry now offers essentially three different types of filling.
#1 The Down-Low on Down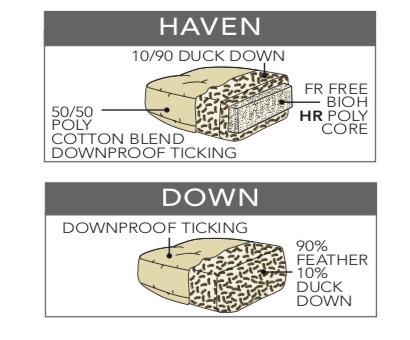 If you want the Downton Abbey look – Down blend cushions are for you! However, this high-maintenance fill requires fluffing after every use. For many years, down was held to be the most luxurious filing attainable for upholstered goods.
Actually, it was one of the ONLY fillings.
Some vendors now offer a hybrid seat core with down and fiber, but we have found that over the years that this still does not hold the cushion in shape. The two examples above show what's inside a primarily down-filled cushion.
#2 The Fabulous Fibers

The best assurance of a cushion that holds its shape over time is one that uses a combination of fibers. Some of these types of cores have a thin layer of feathers with a protective wrapping around the core to add a "crown" to the top of the cushion. This combination gives a supportive feel and holds its shape well. Now with advances in technology, these new man-made fibers actually replicate the softness of a 100% down cushion core, without the miserable maintenance.
Examples are shown above from Lee Industries and Cisco Brothers.
#3 Springs Abound!
With its individually-wrapped set of coils, the "Marshall" unit was an excellent alternative cushion filling, and is still offered by a few manufacturers today, including Lee Industries. It's a relatively expensive option, holds its shape quite well, but is not widely offered. Overall, the feel of the seat is very similar to the Fiber style.
An RX for your Sofas and Cushions
Sagging Seats and More:
In most cases Del-Teet can have your furniture cushions restored to their original shape. This can be easily done by locally adding some Dacron wrap between the core and the outside cover. As this work is usually not covered by any manufacturer's warranty, Del-Teet will only bill you the manufacturer's cost, plus labor for this type of restoration. Please email any photos and descriptions to
info@

null

delteet.com
to receive price quotations if needed.
Choose your fabric/leather carefully:
Any fabric or leather will not perfectly conform to a curved surface. This gets tricky when you want the inside back of your curved chair or sofa to have a smooth, flat appearance. Please expect "comfort wrinkles" on any curved piece of upholstered furniture – seats or backs. Our designers can offer expert advice on which covering are more likely to show these characteristic wrinkles that cannot be removed.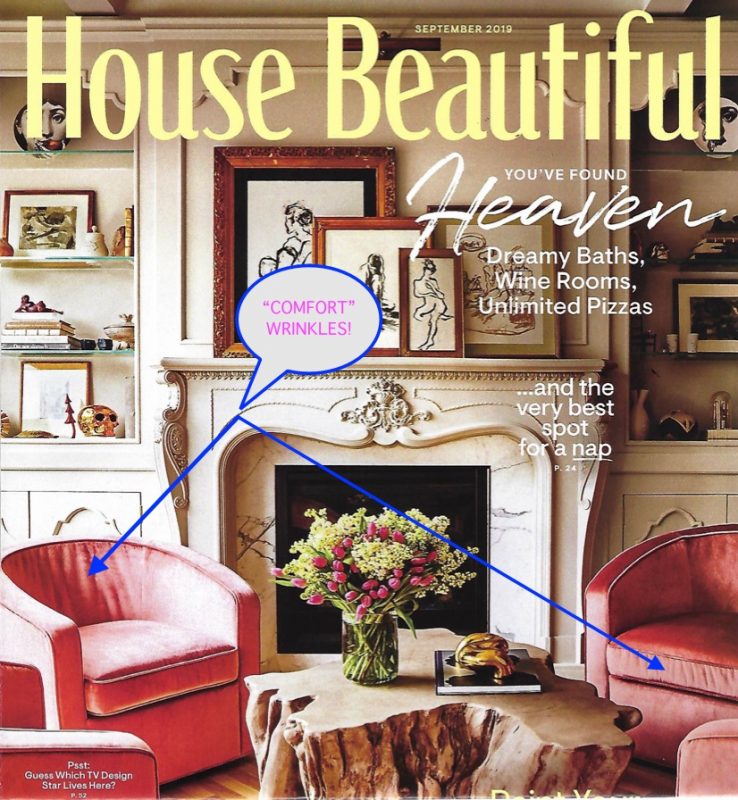 Del-Teet has been in business over 90 years by being sure that our customers are as happy with the furniture that they buy from us now, as they will be in the years to come. If you haven't been in our Bellevue showroom for a while, plan a visit soon to see what's new with cushions and with our line of Right-Size furniture.