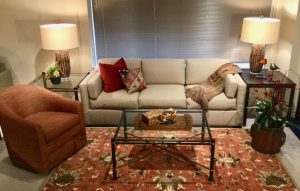 Many of our clients have asked us for a step-by-step plan on completing their interiors, that we thought you might enjoy a "before & after tour" of a sample living room. Accessories are some of the most over-looked things that make your rooms interesting comfortable, and a reflection of your personal style. Click here to see what a difference they can make!
Step One: Your Basic Furniture Pieces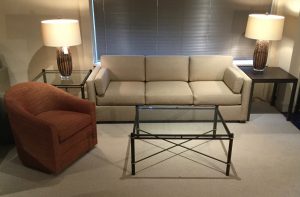 Here we show the main "building blocks" of our sample living room: a sofa, three tables, a swivel chair, and a pair of table lamps.
Step Two: Add Color and Texture
To our original pieces, we added color, texture, and warmth through throw pillows, an area rug, and a cozy throw.
Layer Three: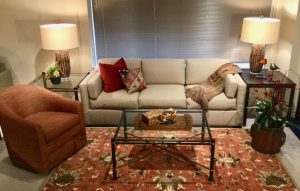 Finally, we added accessories to bring the fine detail and finishing touches to our living room. Note how the gold accents on the tables coordinate with the warm tones of the rug, swivel chair, and pillows.
Please visit Del-Teet and ask our designers to assist you in finding the perfect touches to your room for fall and the upcoming holidays!